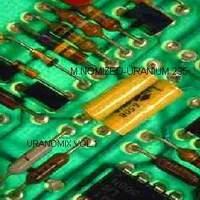 URANOMIX VOL.1
FSCD15 - P.2001.
Track listing:
01 - Uranomix (first part)
a) - Chinese Garden
b) - Tear Up
c) - Out Of Breath
02 - CARVING - Mp3
03 - Uranomix (second part)
a) - Liquid Virus
b) - Walk On Bonfire
c) - Plumbing
d) - End Of World
04 - Bonus track by Koda!.
M.NOMIZED: Synthesizers, Loops, Sampler, Tapes, Programming, Treatments, Rhythms, Electric Guitar.
URANIUM 235: Noises, Ambient, Electronics, Samples, Sounds.
Recorded and mixed at Fraction Studio (France).
Basetracks of Uranium 235 recorded at Fraktion Basik (France).
Mastering by Fraktion Basik (France).
Music composed and played by M.Nomized and Uranium 235.
Cover by M.Nomized.
P.2001 FRACTION STUDIO.